Advocacy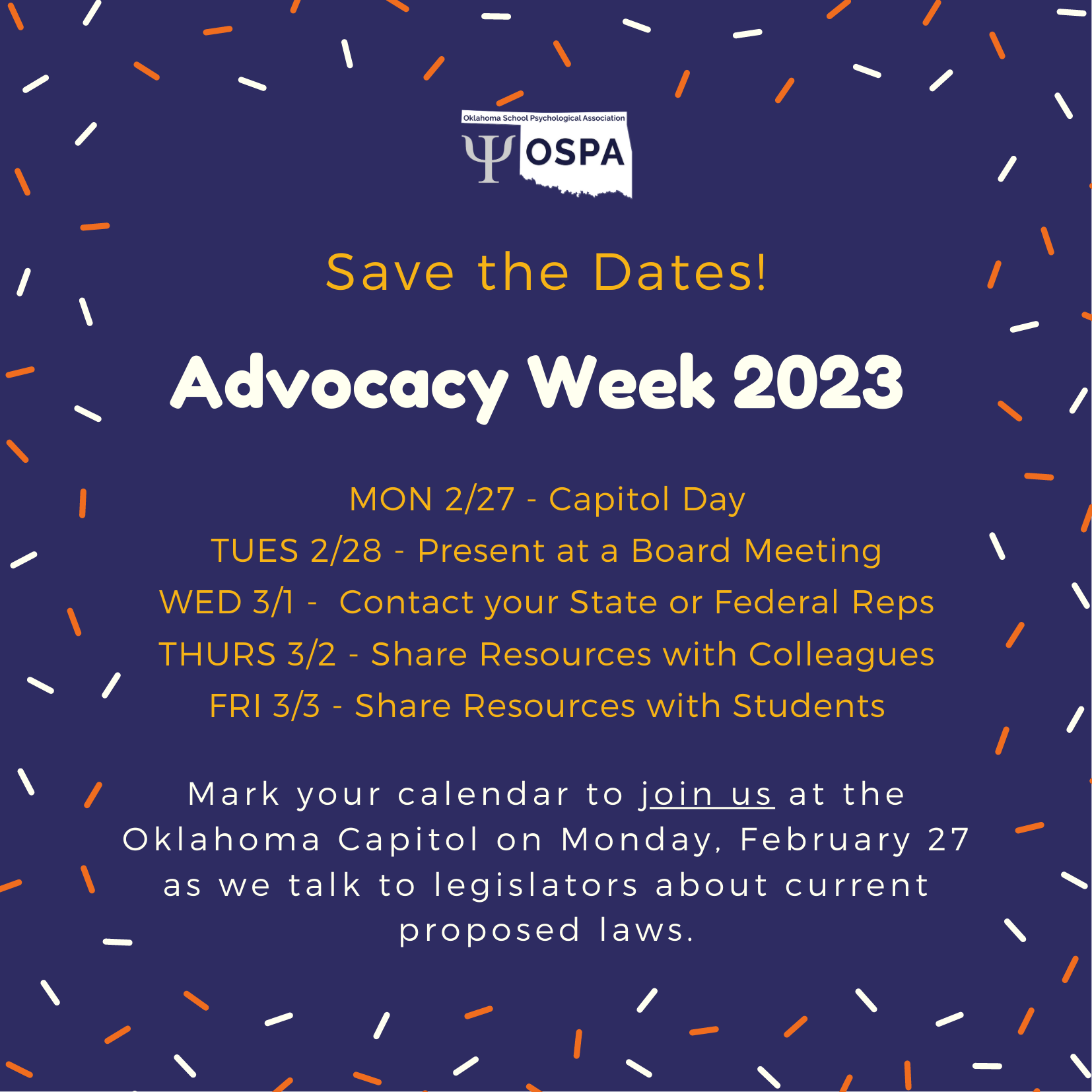 The first step of effective communication is developing clear and memorable messages that directly address a specific situation. One of the primary goals of the OSPA is to help increase awareness of School Psychologists' roles within schools and highlight the impact the shortage of school psychologists has on our state. The National Association of School Psychologists (NASP, 2016) has developed key messages that can be used to help achieve this goal (Key messages from: NASP (2016). Effective Communications).
We challenge all Oklahoma school psychologists to review these messages to help develop your own message to address the question "Why Does Oklahoma Need School Psychologists?"
---
Advocacy Tools
---
Save this images to share on social media regarding School Psychology in Oklahoma
---
2022 Oklahoma Legislation
OSPA is tracking the following bills from Oklahoma's 58th legislature session. We will update this list after legislative deadlines throughout the session. For the most up-to-date information on a bill, click the associated link. Select the version tab to see the most updated version of the bill.  You may also sign up for email updates to bills using the LENS Tracking System.
List represents active bill updates as of March 4, 2022
House Bills (House Legislative Deadlines)
| | | | |
| --- | --- | --- | --- |
| Bill #/Link | Topic | Summary | Status |
| HB 1792 | Terminology for persons with disabilities | Requires making special education available in adjudication of child | Passed Committees |
|  HB 2768 |  Dysgraphia |  Creates 10-member dysgraphia and education task force to develop dysgraphia manual and professional development for dysgraphia |  Passed Committee |
| HB 3888 | Deaf and Blind Education | Establishes duration of employment contract, definition of "working hours" and maximum working hours  | Passed Committee |
| HB 4106 | Mental Health Crisis in schools | Requires school protocol for responding to students in mental health crisis to prevent suicide, self-harm, and harm to others. Requires partnership with local mental health treatment | Passed Committee |
| HB 1919 | School Counselor  | Sets minimum ratio of school counselors to students and mandates counseling services for students | Passed Committee |
| HB 3374 | Community Schools | Allows the State Board of Education to assist and award grants to local school boards of education to establish pilot projects that create community schools within a school district or at a school site if funding is available | Passed Committee |
| HB4109 | Employee Assistance Programs | Requires the Department of Mental Health and Substance Abuse Services to create an Education Employee Assistance Program to provide assistance to public school districts in the management of employees whose personal problems may have a negative impact on job performance. | Passed Committee |
 Senate Bills (Senate Deadlines)
| | | | |
| --- | --- | --- | --- |
| Bill #/Link | Title | Summary | Status |
| SB 626 | Disclosure of inpatient status | Requires parents to disclose to their student's district prior to enrollment if student has received inpatient or emergency outpatient mental health services in previous 24 months | Passed Committee |
| SB 1284 |  Repeal Dyslexia Pilot Program |  Repeals the Dyslexia Teacher Training Pilot Program, 70 O.S. § 7001, in which no Oklahoma university ever participated |  Passed Senate; engrossed to House; will be assigned to House committee shortly |
| SB1138 | Bullying | amends the School Safety and Bullying Prevention Act. The bill changes the term "at school" to "on school premises." It requires school districts policy for the discipline of all children attending public school in that district and for the investigation of reported incidents of bullying be updated annually. | Passed Senate; engrossed to House; will be assigned to House committee shortly |
| SB1307 | Suicide Hotline number | Requires school districts and charter schools that serve any students in grades seven through 12 and issue student identification cards to have printed on either side of the student identification cards the telephone number for the National Suicide Prevention Lifeline and the Crisis Text Line, which can be accessed by texting HOME to 741741 | Passed Committee |
| SB1379 | Background checks | Allows any person employed on a part-time or full-time basis by an Oklahoma school district to provide mental health counseling to be exempt from a national criminal history record check or an Oklahoma criminal history record check from the Oklahoma State Bureau of Investigation if the person produces copies of the record checks completed within the preceding five years. | Passed Committee |
| SB1405 | Suicide prevention law name | Renames legislation related to suicide awareness and training Evan's Law. | Passed Committee |